What is Seven Alpha (7A)
| Main Page | Home | Purchase | Practical Use | 3 Keys | 7A Detail Map | Legal References |
Application Fee covers verification of a legal person or business, five year prior State residency requirement, and all elements necessary for service of process to establish a protectorate domain in the Seven Alpha Network (IP7A) root top level domain tree. Applications may take up to 90 days, for background verification. Once approved, a signing key will be issued for use in subsequent keys for your x.509 domain namespace.
Each Domain Key is valid 1 year from date of issue, with replacement on compromise up to once per month.
These rules are made to restrict abuse, and limit application to one per real person or entity in a 12 month period.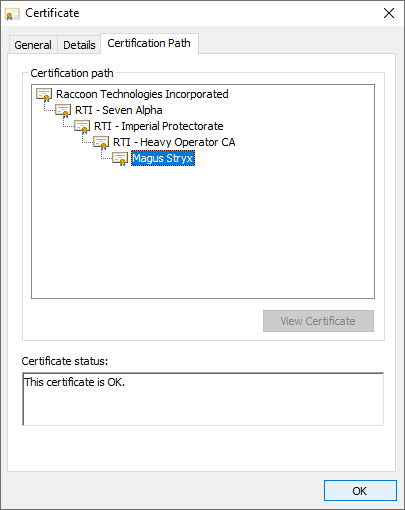 $850 Protectorate-Domain Application Fee
Application requires interview and state ID or approved form of proof of residency or contact for replacement of certificate and strong identity verification test. Issued certificate will be assigned to group or protectorate primary interest, on service package election.

example (right): A Heavy Operator group for the RTI "Imperial Protectorate"

Certificates are only valid on corresponding servers and require root CA and intermediate CA installation to function in Google Chrome and 3rd party browsers. Root CA and intermediate CA public keys must be installed on browsers to access IP7A network services, and will deny on request any access attempt without the proper key and knock process.
Copyright © 2019 SHADOWDANCERS LLC - ALL RIGHTS RESERVED.